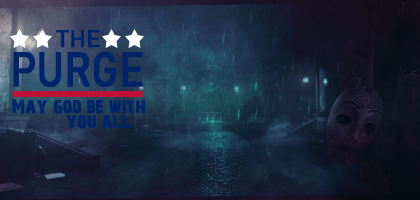 The Purge
May god be with you all
Amerika - Eine Wiedergeborene Nation.
2017 verabschiedeten die Gründungsväter von Amerika den 28. Verfassungszusatz, welcher jährliche, landesweite 'Traditionen' verabschiedet. In diesem Jahr fand auch die erste Purge - Säuberung in Amerika statt. Die Politik geht davon aus, dass die guten Bürger, einmal im Jahr ihre Wut freien Lauf lassen, damit der Rest des Jahres in Ruhe und Frieden gelebt werden kann. Alle Straftaten sind in der Purge Nacht erlaubt, es darf gemordet, gebrandschatz und vergewaltigt werden ohne das es Konsequenzen mit sich zieht. Sogar die Politik ermutigt die Leute in der einen Nacht "purgen" zu gehen um ihre Seele reinzuwaschen.
Die Arbeitslosigkeit liegt bei 1%.
Michigan; Das Leben in Amerika war noch nie so gut wie in den letzten Jahren. Seit die neuen Gründungsväter an der Macht sind. Die Menschen leben "den amerikanischen Traum" wortwörtlich. Die Arbeitslosenquote liegt bei 1% und die Menschen sind glücklich und zufrieden. Jeder hat Geld und wer kein Geld hat lebt dennoch in einer vernünftigen Gesellschaft. Vorzeigebeispiel ist Michigan. Einst noch, war die Stadt in Detroit die gefährlichste Stadt der gesamten USA. Doch auch hier ist die Verbrechensrate wie in allen anderen amerikanischen Städten so niedrig wie nie zuvor.
Die Verbrechensrate ist so niedrig wie nie.
Du bist grade mit deinem Auto unterwegs nach Hause. Der schwarze Cadillac fährt ruhig durch die wunderschöne belebte Straße. Einige Menschen sind auf der Straße, eigentlich nichts ungewöhnliches. Doch eines haben sie gemeinsam. In jedem Vorgarten steht eine Vase mit blauen Blumen. Man wünscht sich Glück für die bevorstehende Nacht. Du parkst dein Auto auf deinem Grundstück, begibst dich in deine teure Villa. Begrüßt deine Kinder und deine Ehefrau. Gemeinsam esst ihr zu Abend und dann macht ihr es euch in eurem Panicroom "gemütlich". Mit geschickten Tastendrücken, fahren die massiven Rollläden auf ihren Schienen und bedecken jedes Fenster und jede Tür die einen Weg ins Haus deutet. Der LCD TV wird angeschaltet und das aktuelle Programm wird unterbrochen und das Notfallübertragungssystem der USA wird übertragen.
This is not a test,

this is your Emergency Broadcast System. Announcing the commencement of the annual purge sactioned by the U.S. Government.

Weapons of class four and lower have been authorized for use during the purge. All other weapons are restricted.

Government officials of ranking 10 have been grandted immunity from the purge and shall not be harmed.

Commencing at the siren, any and all crime, including murder will be legal for 12 continuous hours.

Police, fire, and Emergency Medical services will be unavailable until tomorror morning at 7:00 a.m. When the purge concludes.

Blessed be our new founding fathers and America … A nation reborn

May god be with you all.
Dann ertönt die Sirene über das Land und du weißt. Die Purge hat begonnen.
Denn einmal im Jahr sind alle Verbrechen legal.
Facts
Fakten zum Forum
Fakten zum Board:
# Real Life mit Purge Inhalten
# L3S3V3
# Inplayzeit: 2025
# Michigan, Detroit, USA
# KEINE Seriencharaktere
# Keine MPL
# Hand des Schicksal
Forum
Gesuche
Regeln
Vergebene Avatare


Code:
<link href="https://fonts.googleapis.com/css?family=Open+Sans+Condensed:300|Questrial&display=swap" rel="stylesheet"><style type="text/css">/*

--- LEAVE YOUR HEART OPEN by rubyRED.DIAMOND @ Storming Gates

---- FARBE HINTERGRUND */ :root {--lyho-bg: #1a162b;}/*
---- FARBE TEXTBOXEN */ :root {--lyho-tb: #141122; }/*
---- FARBE AKZENT */ :root { --lyho-at: #be1238;}/*
---- FARBE SCHRIFT */ :root {--lyho-txt: #c2c2c2;}/*

---- HINTERGRUND-BOX */ #lyho {width: 450px; background-color: var(--lyho-bg); padding: 15px 0; box-sizing: border-box;} /*

---- TEXTBOX */ .lyhotextbox {width: 420px; background-color: var(--lyho-tb); padding: 20px; text-align: justify; font-family: Questrial; font-size: 12px; line-height: 18px; color: var(--lyho-txt); box-sizing: border-box;} /*

---- ÜBERSCHRIFT GROSS */ .lyhotitel {font-family: 'Open Sans Condensed', sans-serif; font-size: 45px; color: var(--lyho-at); font-weight: bold; text-transform: lowercase; text-align: center; line-height: 100%;} /*

---- ÜBERSCHRIFT KLEIN */ .lyhountertitel {font-family: 'Open Sans Condensed', sans-serif; font-size: 12px; color: #002469; letter-spacing: 5px; text-transform: uppercase; font-weight: bold; text-align: center;} /*

--- BOLD, KURSIV & UNTERSTRICHEN */ #lyho b {font-family: 'Open Sans Condensed', sans-serif; font-size: 12px; color: var(--lyho-txt); font-weight: bold; text-transform: uppercase; letter-spacing: 1px;} #lyho i {font-family: 'Open Sans Condensed', sans-serif; font-size: 12px; color: var(--lyho-txt); text-transform: uppercase; font-style: italic;} #lyho u {font-family: 'Open Sans Condensed', sans-serif; font-size: 12px; color: var(--lyho-txt); text-transform: uppercase; text-decoration: underline;} /*

--- LINKS */ #lyho a {width: 155px; background: var(--lyho-at); font-family: 'Open Sans Condensed'; font-size: 12px; color: var(--lyho-bg); font-weight: bold; text-transform: uppercase; text-align: center; padding: 4px 8px; display: inline-block; margin: 5px 10px 0px 5px;} #lyho a:hover {background: var(--lyho-bg); color: var(--lyho-at); letter-spacing: 2px; font-style: italic; text-decoration: none;}</style>
<center><div id="lyho">
<img src="images/the_purge/Daten_Bild.png" style="width: 420px; height: 200px;">

<div class="lyhotextbox">
<div class="lyhotitel">The Purge</div>
<div class="lyhountertitel">May god be with you all</div>

<center><i><b>Amerika - Eine Wiedergeborene Nation.</b></i>
</center>
2017 verabschiedeten die Gründungsväter von Amerika den 28. Verfassungszusatz, welcher jährliche, landesweite 'Traditionen' verabschiedet. In diesem Jahr fand auch die erste Purge - Säuberung in Amerika statt. Die Politik geht davon aus, dass die guten Bürger, einmal im Jahr ihre Wut freien Lauf lassen, damit der Rest des Jahres in Ruhe und Frieden gelebt werden kann. Alle Straftaten sind in der Purge Nacht erlaubt, es darf gemordet, gebrandschatz und vergewaltigt werden ohne das es Konsequenzen mit sich zieht. Sogar die Politik ermutigt die Leute in der einen Nacht "purgen" zu gehen um ihre Seele reinzuwaschen.

<center><i><b>Die Arbeitslosigkeit liegt bei 1%.</b></i>
</center>

Michigan; Das Leben in Amerika war noch nie so gut wie in den letzten Jahren. Seit die neuen Gründungsväter an der Macht sind. Die Menschen leben "den amerikanischen Traum" wortwörtlich. Die Arbeitslosenquote liegt bei 1% und die Menschen sind glücklich und zufrieden. Jeder hat Geld und wer kein Geld hat lebt dennoch in einer vernünftigen Gesellschaft. Vorzeigebeispiel ist Michigan. Einst noch, war die Stadt in Detroit die gefährlichste Stadt der gesamten USA. Doch auch hier ist die Verbrechensrate wie in allen anderen amerikanischen Städten so niedrig wie nie zuvor.

<center><i><b>Die Verbrechensrate ist so niedrig wie nie.</b></i>
</center>

Du bist grade mit deinem Auto unterwegs nach Hause. Der schwarze Cadillac fährt ruhig durch die wunderschöne belebte Straße. Einige Menschen sind auf der Straße, eigentlich nichts ungewöhnliches. Doch eines haben sie gemeinsam. In jedem Vorgarten steht eine Vase mit blauen Blumen. Man wünscht sich Glück für die bevorstehende Nacht. Du parkst dein Auto auf deinem Grundstück, begibst dich in deine teure Villa. Begrüßt deine Kinder und deine Ehefrau. Gemeinsam esst ihr zu Abend und dann macht ihr es euch in eurem Panicroom "gemütlich". Mit geschickten Tastendrücken, fahren die massiven Rollläden auf ihren Schienen und bedecken jedes Fenster und jede Tür die einen Weg ins Haus deutet. Der LCD TV wird angeschaltet und das aktuelle Programm wird unterbrochen und das Notfallübertragungssystem der USA wird übertragen.

<center><i>This is not a test,

this is your Emergency Broadcast System. Announcing the commencement of the annual purge sactioned by the U.S. Government.

Weapons of class four and lower have been authorized for use during the purge. All other weapons are restricted.

Government officials of ranking 10 have been grandted immunity from the purge and shall not be harmed.

Commencing at the siren, any and all crime, including murder will be legal for 12 continuous hours.

Police, fire, and Emergency Medical services will be unavailable until tomorror morning at 7:00 a.m. When the purge concludes.

Blessed be our new founding fathers and America … A nation reborn

May god be with you all.</i></center>

Dann ertönt die Sirene über das Land und du weißt. Die Purge hat begonnen.

<center><i><b>Denn einmal im Jahr sind alle Verbrechen legal.</b></i>
</center></div>

<div class="lyhotextbox">
<div class="lyhotitel">Facts</div>
<div class="lyhountertitel">Fakten zum Forum</div>

<b>Fakten zum Board:</b>
<div style="padding: 0 10px;"># Real Life mit Purge Inhalten
# L3S3V3
# Inplayzeit: 2025
# Michigan, Detroit, USA
# KEINE Seriencharaktere
# Keine MPL
# Hand des Schicksal</div>

<center><a href="https://dorminantus.de/index.php" target="_blank">Forum</a> <a href="https://dorminantus.de/forum-7.html" target="_blank">Gesuche</a> <a href="https://dorminantus.de/forum-4.html" target="_blank">Regeln</a> <a href="https://dorminantus.de/misc.php?action=rpgfaceclaim" target="_blank">Vergebene Avatare</a></center>

<center><img src="images/the_purge/Sister_Button.png" style="width: 88px; height: 31px;"></center></div>

<img src="images/the_purge/Daten_Footer.png" style="width: 420px; height: 120px;">
</div>
</center>